​
COMPANIONSHIP CARE
Companionship
CHC caregivers keep our clients company with conversation, sharing a meal together,playing cards or scrabble, discussing current events, knitting & crocheting or any number of activities that the client has an interest in. This type of social contact is proven to enhance the health, happiness and quality of life of seniors in their home.
Grocery Shopping/Errands
CHC caregivers can take clients grocery shopping and to run local errands, such as going to the post office or pharmacy. They can go for a drive on a nice day, out for coffee or attend church services. Getting out and about is an excellent way to stay active and engaged.
Incidental Transportation
CHC provides transportation incidental to other care services, such as taking clients from home to medical appointments, barbershops, beauty salons, shopping, or anywhere else a client wants to go.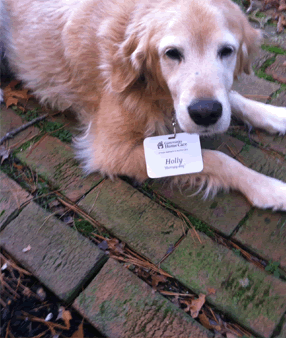 Meet Our Therapy Dog Holly
The Benefits of Animal Therapy
Studies indicate that when elderly or dementia patients have a pet with them, they have more interactive behaviors. This effect is consistent whether the dog and seniors interact one-on-one or in a group setting.
In addition to stimulating a social response, elderly & dementia patients may benefit from the presence of therapy animals because of:
Reduced Agitation. Agitation behaviors, common among dementia patients, are reduced in the presence of a dog.


Physical Activity. Depending on a patient's mobility, they may be able to groom the animal, toss a ball, or even go for a short walk.


Improved eating. Dementia patients have been shown to eat more following a dog's visit.


Pleasure. Some patients simply enjoy the presence of the dog and its human companion, as well as the tricks therapy dogs can do.
Services
Community Home Care is a full service home care agency. We provide home health aides, homemakers, companions, overnight care, case management, caregiver respite, transportation and more.
Careers
Community Home Care is currently looking for full and part-time experienced, responsible, compassionate, and trustworthy caregivers. Take a minute to review and apply on our careers page.
True Stories
"Thank you again for coming to our rescue, for providing the care my folks require, and for being so accommodating about getting them to their appointments on time. Your kind attention has been a godsend."
Assessment
For your home health care needs on the south shore of MA and Cape Cod, contact Us today for a complimentary in-home assessment.
781.569.4970