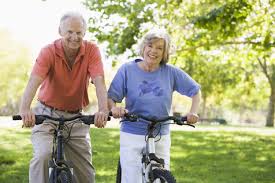 The days are getting warmer and longer. Summer is around the   corner and we could not be more excited.
Going outside for a daily walk or other moderate physical activity has many proven health benefits for seniors. See here just some of the positive effects staying active can have on aging adults.
Increase mental capacity
Research links physical activity with slower mental decline. Exercise increases blood flow to all parts of your body, including your brain, and might promote cell growth there. Exercise — particularly if it starts early and is maintained over time — is beneficial in preventing dementia and Alzheimer's disease. (Source: Senior Journal.com)
Prevent disease
Exercise may delay or prevent many diseases associated with aging, such as diabetes, colon cancer, heart disease, stroke, and others, and may reduce overall death and hospitalization rates, according to the National Institute of Aging.
Improve healing
Injuries and wounds take longer to heal as people age. Regular exercise by older adults may speed up the wound-healing process by as much as 25 percent. (Source: Senior Journal.com)
Improve quality of life
A new study has found that previously sedentary senior citizens who incorporated exercise into their lifestyles not only improved physical function, but experienced psychological benefits as well. (Source: SeniorJournal.com)
Increase balance
This helps prevent falls, a major cause of broken hips and other injuries that often lead to disability and loss of independence. (Source: Senior Journal.com)
Increase life expectancy
Benefits are greater among the most active persons, but are also evident among those who reported moderate activity, according to the CDC.